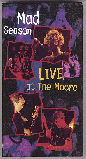 ---
Mad Season taped a live performance at the Moore Theater in Seattle, WA.
---
Tracks: 1. X-Ray Mind 2. Long Gone Day 3. Lifeless Dead 4. River of Deceit 5. November Hotel 6. All Alone 7. I Don't Know Anything 8. Lifeless Dead (Self Pollution Radio Broadcast) 9. River of Deceit (Music Video) Total Running Time: 50 minutes
---
"Live at the Moore" (Sony R-3365) Credits Primary Artist Mad Season Performer Mike McCready Mark Lanegan Baker Layne Staley Barrett Martin Nalgas Sin Carne Bass Baker Drums Barrett Martin Guitar Layne Staley Percussion Barrett Martin Vocals Mark Lanegan Layne Staley Vibraphone Barrett Martin Marimba Barrett Martin Electric Guitar Mike McCready Acoustic Guitar Mike McCready Bass Cello Barrett Martin Saxaphone Nalgas Sin Carne
---
Cast your vote! Tell the world what this video deserves. Give it a rating. Give it a try!
---