So far, "Above" is the only album made by Mad Season.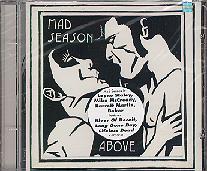 Tracks:

Wake Up (7:38)
X-Ray Mind (5:12)
River of Deceit (5:04)
I'm Above (5:44)
Artificial Red (6:16)
Lifeless Dead (4:29)
I Don't Know Anything (5:01)
Long Gone Day (4:52)
November Hotel (7:08)
All Alone (4:12)

Total Running Time: 55:36
Download Some Clips
Read some lyrics
Print some tabs

Mad Season also has an import for the single of "River of Deceit". It has one other track, November Hotel (live).
It's rare, so you might have some trouble finding it.

Above was released under Columbia(CK 67057)and produced by Mad Season and Brett Eliason. 1995 Sony Music Entertainment.

ADDITIONAL MUSICIANS:
Mark Lanegan- Vocals on "Long Gone Day"
Nalgas Sin Carne- Saxaphone on "Long Gone Day"

HITS FROM THE ALBUM:
River of Deceit (single, music video, radio)
I Don't Know Anything (radio)

"Above" was released March 14, 1995. Two weeks prior to the release of the CD, a vinyl version was released, using two discs.
---
BOOTLEGS:
Crocidile Cafe 11-6-94 25min.
Self-Pollution Radio Broadcast 1-8-95 10 min.
In Seattle, WA 4-29-95 90 min. Contains seven songs, one of them new (I Don't Want to be a Solider, by John Lennon)
---
HOME VIDEOS:
"Live at the Moore" (Sony R-3365)
Mad Season performed seven songs at the Moore Theater in Seatle, WA on part of their 8-day so-called "World Tour".
Tracks:
X-Ray Mind, Long Gone day, Lifeless Dead, River of Deceit, November Hotel, All Alone, I Don't Know Anything, Lifeless Dead (radio clip), River of Deceit (music video)
Running Time:
50 minutes
---
PROMOS:
I Don't Know Anything 1-track
Long Gone Day 1-track
Above and Winter Songs (w/ 8 Screaming Trees songs)

---
SOUNDTRACKS/TRIBUTE ALBUMS:
Mad Season did the song "I Don't Want to be a Soldier" on the tribute CD entitled Working Class Hero: A Tribute to John Lennon. You can hear it in the Sound Clips section.
They have not appeared on any movie soundtracks.
---